Onyx by Jennifer L Armentrout
Series: Lux #2
Publisher: Entangled Teen
Publication Date: August 14th 2012
Source: Bought
Being connected to Daemon Black sucks…
Thanks to his alien mojo, Daemon's determined to prove what he feels for me is more than a product of our bizarro connection. So I've sworn him off, even though he's running more hot than cold these days. But we've got bigger problems.
Something worse than the Arum has come to town…
The Department of Defense are here. If they ever find out what Daemon can do and that we're linked, I'm a goner. So is he. And there's this new boy in school who's got a secret of his own. He knows what's happened to me and he can help, but to do so, I have to lie to Daemon and stay away from him. Like that's possible. Against all common sense, I'm falling for Daemon. Hard.
But then everything changes…
I've seen someone who shouldn't be alive. And I have to tell Daemon, even though I know he's never going to stop searching until he gets the truth. What happened to his brother? Who betrayed him? And what does the DOD want from them—from me?
No one is who they seem. And not everyone will survive the lies…
I honestly never though Onyx would be able to up Obsidian... but boy did it. This book took me on an emotional rollercoaster. There was so much at stake in this one and a very big surprise at the end that had me dancing on my bed because I was SO DAMN HAPPY!
OK, so this one picks up where Obsidian left off with Daemon doing everything in his power to convince Katy of his feelings for her, but she just won't believe him! But Daemon has more on his plate than that, the DOD (department of defense) have arrived in town for a surprise visit and they're keeping an annoyingly close eye on the Luxen's and any humans attached to them. Katy also has some problems on her hands. There's a new guy in town who's taken an interest in her, and Katy finds herself attracted to him. And if that wasn't enough, Katy see's someone who is supposed to be dead which leads them to all sorts of revelations.
After what happened at the end of Obsidian, Katy is more badass than ever. Even though her and Daemon don't understand the depth of what happened Katy is definitely experiencing some weird after effects. She's struggling to come to terms with what's happening and she's also trying to fight her feelings for Daemon. Enter new guy. Blake is a welcome distraction for Katy. She finds herself starting to get attracted to him, but Blake is hiding something and he's also not letting on how much he knows about Katy and what happened to her.
Daemon, Daemon, Daemon. I love, love, love him so much! He's so sweet in this one but he still has his usual jackass moments which I love him for because they're hilarious! He's so funny and protective of Katy. He's just awesome.
And then there's Blake. Now, I thought there was something fishy about him to start with. I had my reservations and I just didn't know whether I could trust him or not. But he seemed so nice and normal and he was really good for Katy that I started to shed my doubt. And then all at once my walls went back up again and shut him out. Blake is hiding a secret about who he really is and what he knows about what Katy is. He's been lying and trying to weasel his way into her life and eject Daemon (which I was SO not happy about).
Dee and Adam were so cute in this one <3 I honestly don't understand why Dee thought they weren't great together, but then after that one night they were suddenly all over each other. It was still really cute though :)

Ash and Andrew were being as horrible as ever, even more so this time. I seriously don't think they have a nice bone in their bodies. I feel sorry for Adam for having them as his siblings.
Daemon and Katy's constant back and forth in this one was so frustrating! They both have some serious trust issues when it comes to other people. They were both at each others throats about other people (Ash & Blake) and didn't seem to trust each other when it came to these two.
Daemon was hell bent on proving that his feelings for Katy were real and not just an after effect of what happened at the end of Obsidian. But Katy is having a hard time accepting this because of how much Daemon seemed to hate her and now all of a sudden he seems to have changed. I kind of understood why Katy didn't believe him to start with, but he was constantly showing her how much he wanted her and I was starting to get annoyed with Katy for not believing him. It was blatantly obvious how much her cared for her and that his feelings were real.
So there was a hell of a lot more going on in this one. With Blake showing up, the DOD on their doorstep, Katy's mums boyfriend (who was in SHADOWS! And it took me almost the whole book to realise that) and the twist that someone thought to be dead may still be alive. And of course, the weird thing that happened to Katy after the end of Obsidian. Oh, and the Arum. There's always Arum to look out for. But yeah, this one kept me on the edge of my seat and there was so much thrown at me. A couple of things I worked out or I thought were true and they were, but I honestly didn't care that I'd worked them out. I was so invested in this story.
And then there was that fight scene in Katy's house. Oh dear lord I think my heart was ripped out. I just couldn't believe it. I was in shock. And then if that wasn't enough, a twist was thrown at me at the end of the book that made me so happy! But I was still really sad from what had happened early in the book. So yeah, this was pretty much an emotional rollercoaster of a book.
BUT THE ENDING <3 *happydance*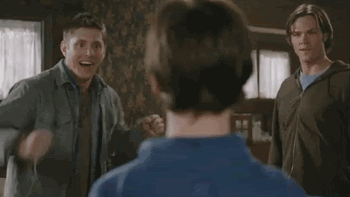 I ended up loving this book so much more than Obsidian and I loved that one A LOT too. So yeah, it was just an amazing sequel and I'm excited to see what Opal has in store for me.