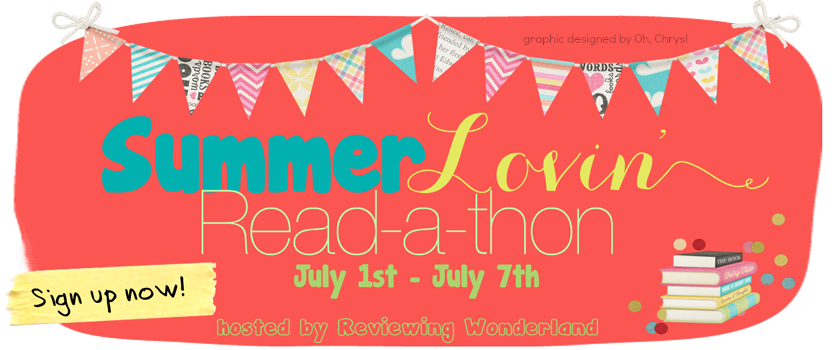 Today is the first day of the Summer Lovin' Read-a-thon! This month is going to be packed full of read-a-thons for me [this is the first of 3 this month] so I'm hoping I'll be able to get a lot of reading done!
Day 1: Class Orientation (Introduce Yourself)

Hello everyone! For those of you who don't already know me, my name is Samantha. I'm a 20 year old student from Glasgow! I'm currently at University studying Psychology with Interactive Entertainment, which I enjoy most of the time.
I've been reading since I was extremely young. I can't for the life of me remember what it was that got me into reading, but I'm glad it happened.
Book blogging was something I actually didn't come across until last year. I had no idea it existed! I'm so happy that I came across it though because reading other people's blogs and seeing them expressing their love for books was what made me start blogging in the first place.
I read mostly YA/Childrens books & NA novels, but sometimes I'll read some Adult fiction. It really just depends on what kind of mood I'm in - but it's mostly YA/Childrens fiction.
Goals
I'm planning on reading 7 books for this read-a-thon!.
1. Looking for Alaska
by John Green
2. Ash by Malinda Lo
3. The Maze Runner by James Dashner
4. My Soul to Take by Rachel Vincent
5. Across the Universe by Beth Revis
6. Throne of Glass by Sarah J Maas
7. Unearthly by Cynthia Hand
Challenge #1: Teaser Tidbits
"Knowing he'd only cause more trouble for himself If he stayed, the Crown Prince of Adarlan bowed silently and he left his father, eyes gleaming with barely controlled anger."
Progress
No. of books finished:
2
Books read:
Throne of Glass, Unearthly
No. of pages read: Throne of Glass - 420 pages, Unearthly - 435 pages: 855 pages